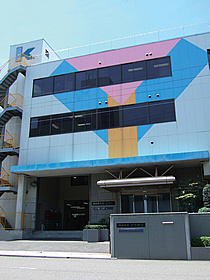 Company Name

Kawaden R&D Co., Ltd.

Address

Zip.554-0052 1-1-60 Tsuneyosi Konohana-ku OSAKA >Map

Phone

06-4804-3711

Established

May 1, 2007

Capital

10 million Yen

Business Line

Manufacturing and marketing of electronic control equipments,

electric machinery and other products

Directors

President - Rikuo Fukamachi

Senior Managing Director - Hiroharu Kanetaka

Director, R&D Dpt. Mananer - Joji Tanaka

Director, Technical Dept. Manager - Hitoshi Matsunaga

Auditor - Hideo Nakai

Main Bank

Bank of Tokyo-Mitsubishi UFJ

Web Site

Affiliated Companies

Kawaden R&D Co., Ltd. was established as independent R&D and marketing arm of Kawaden Co., Ltd, of which business is highly evaluated in valve and actuator fields for decades. We are developing high-functional actuators mainly for valves, which are indispensable for many industrial fields and lifeline utilities. The application range of high-functional actuators including capacitor-loading ones, is widely expanding. Based on the corporate spirit which aims for contribute to environmental protection and better society, we seek for innovative product development and improved quality. We would like to thank everyone for the continued support.


Sep. 1973


Kawaden Co., Ltd. was originally established as Kawaden Kiki Co., Ltd, which was separated and became independent from the production division of Kawakita Denko Co., Ltd. It launched


Business activities had been continued mainly to design and production of actuators for motor-driven valves.

Sep. 1984

Tokyo office was established in kanndasuda-cho, Chiyoda-ku, Tokyo

Jan. 1989

Company name was changed to "Kawaden Co., Ltd.", hoping for makeover of the company image.

For the expansion of the business, Tokyo branch was transferred to kandanishiki-cho, Tokyo.

May 1990

Head office was moved to the new headquarter building in Tsuneyoshi Techno Park.

April 2000

"Japan IT Management Grand Prix" awarded

Feb. 2002

"Fukuda-Special Prize at the 27th Invention Prize" awarded

April 2002

MEXT prize awarded

Aug. 2002

With the company concept of "Creation of Original Technology", Fp Project Team was inaugurated.

May 2004

Company chairman, Rikuo Fukamachi received "Medal with Yellow Ribbon" from Japan's government.


May 2007


Kawaden R&D Co., Ltd. was independently established from "Kawaden" to reinforce the technical development segment.

Jully 2007


Beijing Kawaden Co., Ltd was established as a base for global operation and authorized as a certified high-technology company by Chinese government.